Teaching & Lecturing

Dr Elise Robertson - BS BVetMed MACVSc(Feline) DipABVP(Feline) FHEA FRSB FRCVS ABVS® American Board Certified Diplomate Feline Practice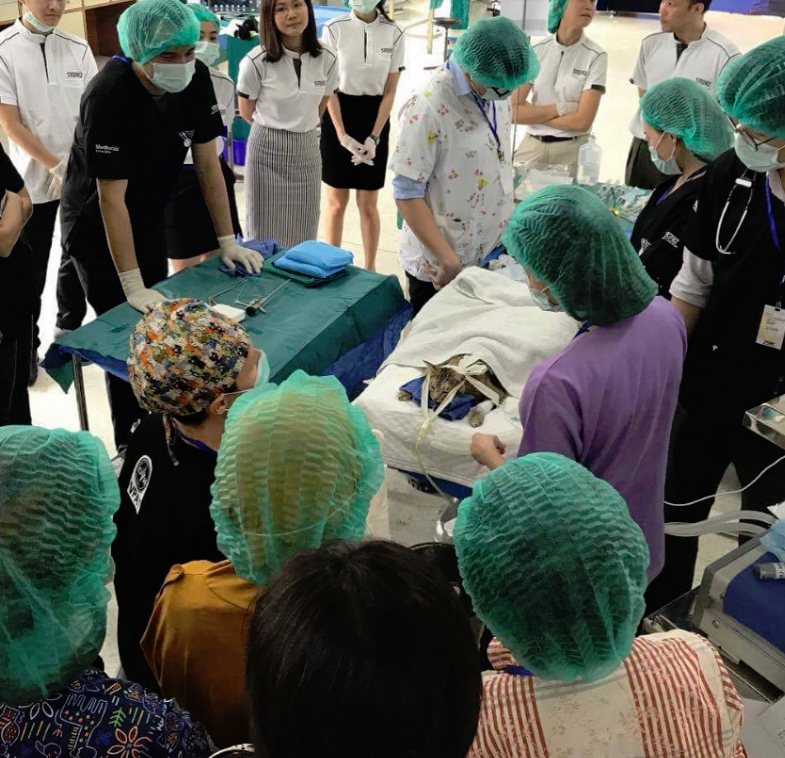 Teaching & lecturing is one of the things I enjoy the most – passing on knowledge and helping those starting out on the endoscopy road!
Elise was awarded Membership Australian and New Zealand College Veterinary Scientists Feline Chapter (ANZCVSc) in 2008 and later Diplomate status from the American Board of Veterinary Practitioners (ABVP). Elise's most recent accolade is becoming a Fellow Royal Society of Biology (FRSB) – the same award Sir David Attenborough holds!
She's head European mentor for the International Society Feline Medicine (ISFM)/University of Sydney Distance Education programme in Feline Medicine, Examiner for ANZCVSc Feline Chapter, Co-Lecturer for ESAVS (University of Luxembourg) Endosurgery courses and Co-Lecturer at Colorado State University Endoscopy/Endosurgery Courses.
Elise speaks at conferences in the UK and Internationally including Europe, Asia and USA alongside operating a visiting feline medicine referral and endoscopy consultancy service for veterinary practices in the UK & SE Asia.
Please contact me if you would like to make a booking for a conference or practical teaching course:
"Five words can describe Elise – The Patron Saint of Cats! Upon first meeting with Elise, we were instantly reassured, not only by her encyclopaedic knowledge, but also by her complete empathy and patience… We cannot recommend Elise or thank her enough for actually saving Willow's life! A true professional!"
– Mags & Claudia Arrow, Hove, East Sussex, UK
"Our GP Vet suggested he be seen by Elise Robertson. From the first time she saw him, Elise showed him such kindness and compassion. She seemed to gain his trust immediately. Importantly, Elise instilled confidence in us as his owners that she would get to the bottom of his problems."
– Malcolm Bennett, Southsea, Hants, UK
"It has been a privilege to have Elise Robertson come to my surgery in her capacity as a visiting feline medicine and endoscopy consultant. I particularly appreciate her empathy for and gentle handling of her feline and canine patients, and her meticulous approach to clinical cases."
– Gideon Smit BVSc MRCVS, Veterinary Surgeon and Director, Companion Care Vets Ltd, Chichester, UK
"I know that without Elise's skills and dedication that Polly would not be enjoying the life she has today and I cannot sing her praises loud enough."
– Linda Parris, Brighton, East Sussex, UK
"Without the intervention from a feline specialist Tabitha would not have had her conditions diagnosed at an early stage. With treatment and the recommended changes made by Dr Robertson I believe that her prognosis for the future is very favourable."
– Catherine Braham, Ashford, Kent, UK